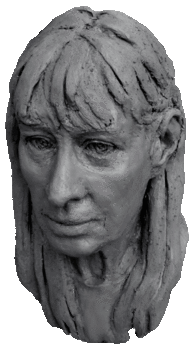 I began to model in 2006 at Chipstead Craft Studios with Clive Oates. Subsequently, I have attended master-classes in portrait sculpture with Jon Edgar, with Suzie Zamit, and with Etienne Millner. In 2013 I completed a Certificate Course at the Art Academy where I focused on learning the basic techniques I lacked and the critiques and teaching I needed.
My models start life in clay, Newplast or wax and are then fired or moulded for editions to be cast in bronze-resins or bronze. I occasionally work in wire.
I often use musicians as my subjects because, while immersed in their music, they become the conduit for powerful expressions of feeling. In addition I try to portray the intense focus of sportsmen as they strive to be the best in their field.
I have had a number of commissions and have work in collections in the UK, the US and on the Continent.
Exhibitions
| | | |
| --- | --- | --- |
| 2019 | | Ightham Mote, Kent with East Surrey Sculptors |
| 2018 | | Kent Painters' Group, Sevenoaks |
| 2017 | | RHS Wisley, Surrey with Surrey Sculpture Society |
| | | Ightham Mote, Kent with East Surrey Sculptors |
| 2016 | | Chelsea Art Society, London |
| | | Kent Painters' Group, Sevenoaks |
| 2015 | | Royal Opera Arcade Gallery, Pall Mall, London |
| | | Ightham Mote, Kent with East Surrey Sculptors |
| 2014 | | Greenstede Gallery, Surrey with East Surrey Sculptors |
| 2013 | | Fulham Palace, London with Surrey Sculpture Society |
| | | Guildford Cathedral, with Surrey Sculpture Society |
| | | Art Academy Graduate Show, London |
| | | Ightham Mote, Kent with East Surrey Sculptors |
| 2012 | | Art in Action, Oxfordshire |
| | | G-Live Guildford, with Surrey Sculpture Society |
| 2011 | | Pashley Manor, East Sussex |
| 2010 | | Art Loco Gallery, Ticehurst, East Sussex |